Meine Freundin Christiane geht sei Jahren zu BarCamps, bisher konnte ich mir unter diesem Begriff nicht wirklich was vorstellen. Als erstes denkt man natürlich an ein ein gemeinschaftliches Treffen durstiger Menschen die sich dann allesamt betrinken.
In der Tat ist es so, dass viele Menschen zusammen kommen. Aber ganz klar stehen hier die Teilnehmer/innen das BarCamps im Vordergrund. Sie bestimmen nämlich am Tag selber das Programm für die sogenannten "Sessions". Jeder der gerne eine Session halten möchte tritt nach vorne und dann wird abgestimmt, ob es genüg Interessenten gibt und ob die Session zustande kommt. Behandelt werden hauptsächlich digitale und lokale Themen. Jeder kann aber auch – ganz frei Schnauze nach – ein völlig anderes Thema vorstellen.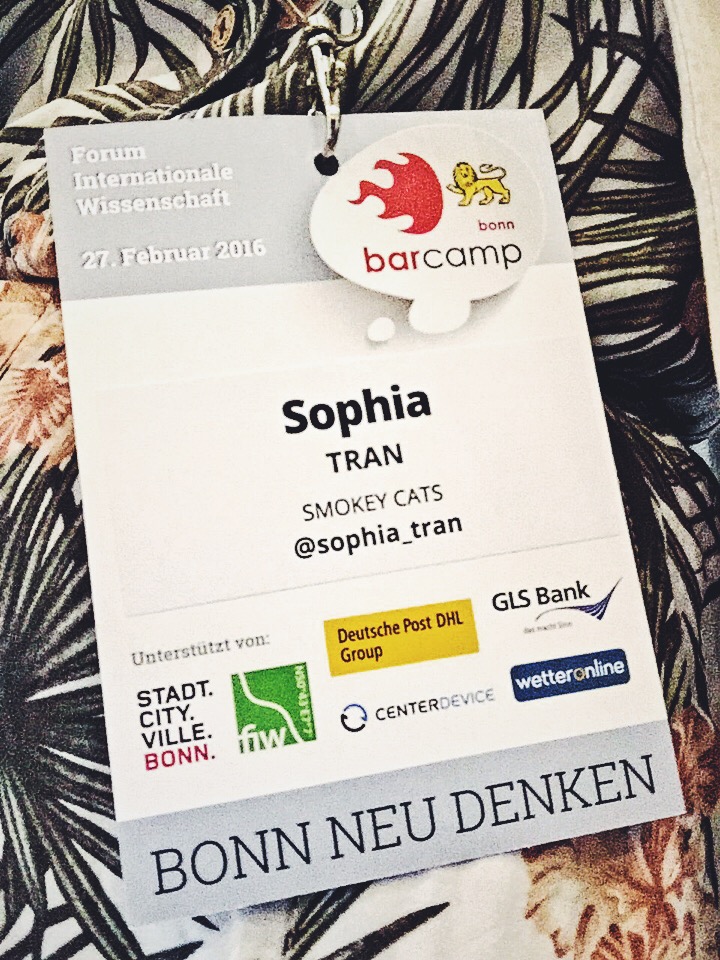 Das Bonner Barcamp fand gestern zum zweiten Mal Forum Internationale Wissenschaft Bonn statt. Etwas verspätet erschien ich gerade rechtzeitig um mir die vollgepackte Frühstückstüte zu schnappen und gerade noch die Begrüßung zu hören. Alle Teilnehmer/innen sollten sich mit drei Hashtags vorstellen, eine sehr witzige Idee:
Ooops zu spät bei der #bcbn16 Vorstellungsrunde, daher hier meine Hashtags: #Weltenbummlerin #Selfiequeen #Omnomnom pic.twitter.com/n0ZlSTscyw

— The Blogtrotter Girl (@Sophia_Tran) 27. Februar 2016
Ich war gestern überwältigt, dass gefühlt 1/3 der Teilnehmer/innen eine Session halten wollte und tatsächlich war das Programm dann schnell zusammengestellt.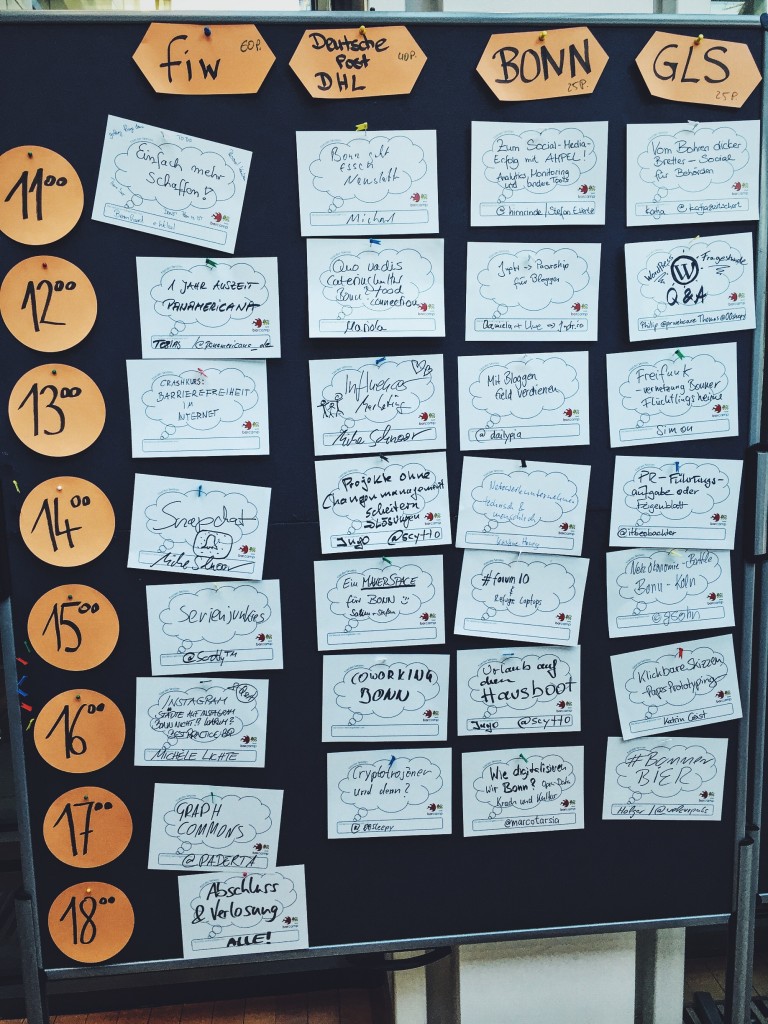 Als würden sich alle Barcamp-Teilnehmer anstellen #bcbn16 pic.twitter.com/650r5UzWZC

— Philipp Meyer (@Willibertfred) 27. Februar 2016
Und dann ging es in die einzelnen Räumen und erfuhr die News über den Bonner MakerSpace, neue Möglichkeiten mit Snapchat oder wie man sich mit Hilfe von Trello und Co. selbst organisieren kann.
Und die Frage die mich lange Zeit auch beschäftigte lautet: Warum hat die Stadt Bonn keinen eigenen Instagram-Account? Ich als absolute "Pro"-Userin kann das absolut nicht nachvollziehen, weil diese Plattform so viele Möglichkeiten anbietet um diese wunderschöne ehemalige Hauptstadt zusätzlich (!) zu vermarkten und anderen Menschen noch bekannter zu machen. Hier besteht aus meiner Sicht dringender Handlungsbedarf!
Natürlich sollte mein neues Lieblingstool Snapchat auch nicht fehlen. Hier gab es neue Tricks und Möglichkeiten zu erkunden, wir hatten sichtlich Spaß am ausprobieren!
@MikeSchnoor erklärt Snapchat und ich fühle mich auf der Stelle um 30 Jahre gealtert. #Snapchat #bcbn16 #sonnesching pic.twitter.com/XEtvHkT5Ke

— rheinland relations (@rheintweet) 27. Februar 2016
Follow me on #Snapchat: blogtrottergirl ? #bcbn16 pic.twitter.com/r6A6PObLkI

— The Blogtrotter Girl (@Sophia_Tran) 27. Februar 2016
Aber schön, dass es bei BarCamps nicht immer nur um IT Themen geht, sondern jeder kann darüber reden worauf er oder sie Lust hat: So hab ich gestern u.a. viel gelernt über Bonner Biere, Hausboot fahren oder die Möglichkeiten Panamericana zu bereisen.
Auszeit m Defender. 'Irgendwann fahren wir die Panamericana war erst nur ein Spruch", aber dann gings los #bcbn16 pic.twitter.com/UjzMyqM79U

— Susanne Heinrich (@cantarlo) 27. Februar 2016
Das Bier steht schon mal kühl. #bcbn16 pic.twitter.com/zAJDRvbyxd

— BarCamp Bonn (@BarCampBonn) 27. Februar 2016
Während der Mittagpause wurde uns ein umfangreiches Buffet zur Verfügung, das auch Veganer bediente: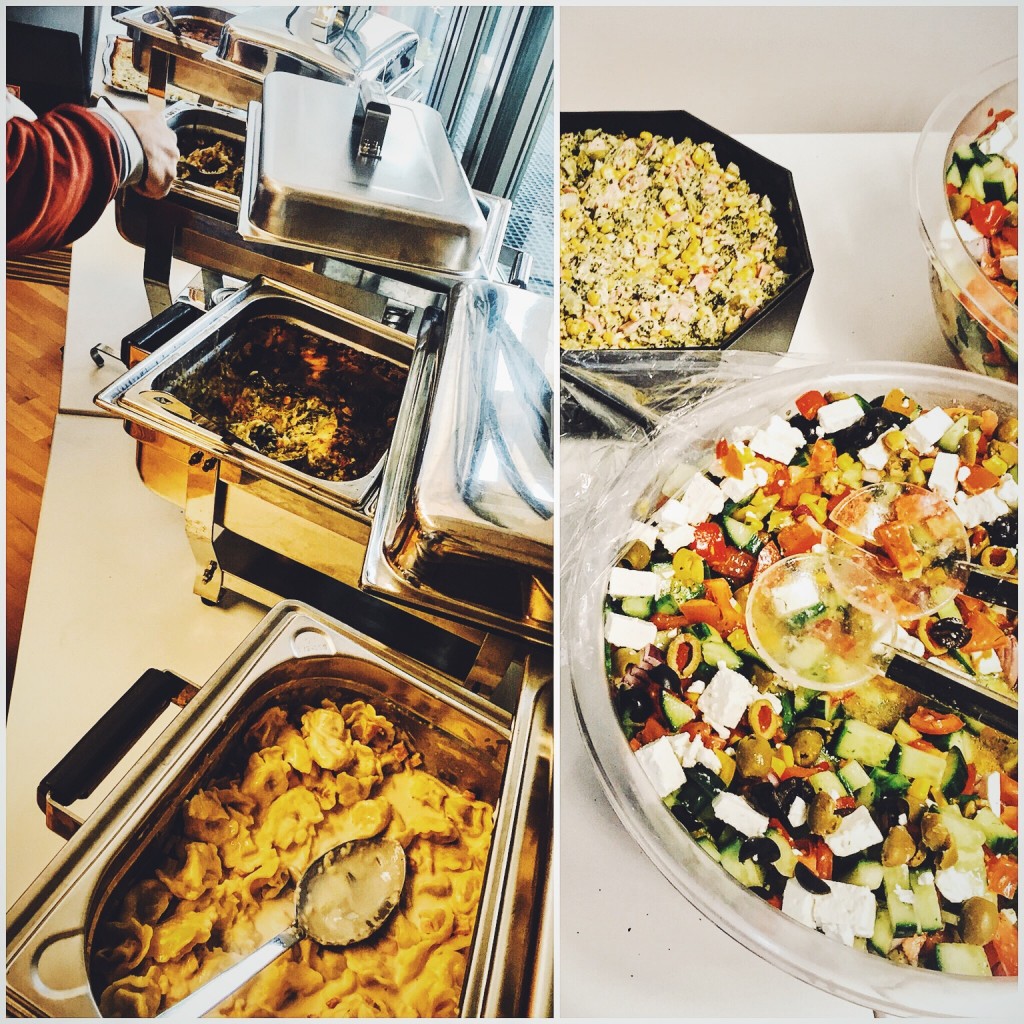 Der Tag verging wie im Flug und gegen 18 Uhr war ich dann doch ziemlich erledigt, aber sehr happy! Ich habe vielseitige und inspirierende Gespräche geführt und  ging mit vielen Ideen und Anregungen nach Hause. Aber das Wichtigste ist: ich habe unglaublich tolle Menschen kennengelernt!
Danke für einen mehr als gelungenen #bcbn16 und die sehr profesionelle Organisation Sascha, Johannes und Karen!
Großer Dank an die Barcamp Bonn-Organisatoren – es war wieder klasse #bcbn16 pic.twitter.com/33UarZMp8c

— gsohn (@gsohn) 27. Februar 2016